Bear Archery Company Catalogs
In the Beginning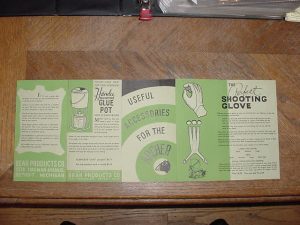 The first Bear Archery Catalogs were no more than folded pamphlets advertising the leather goods which Fred had begun making in a shop in downtown Detroit. These first brochures were apparently produced in 1935. I say this because an add was found in the March 9, 1935 issue of Archery Review which announces that the Bear Products Company has a brochure available which can be obtained by writing the company on Tireman Avenue in Detroit. Although I have not actually seen a copy of this brochure, and I know of no one who has one in their collection, there were surely no bows in this catalog since Bear was making only accessories at this point in time.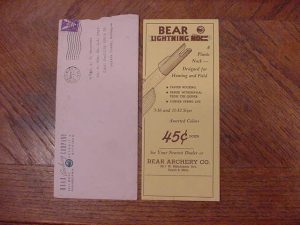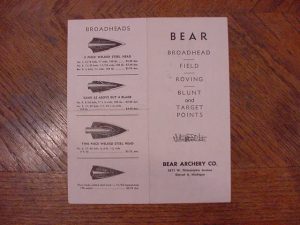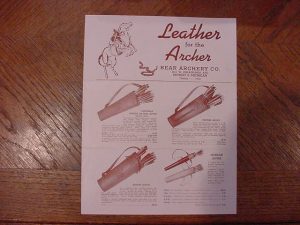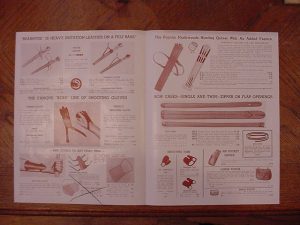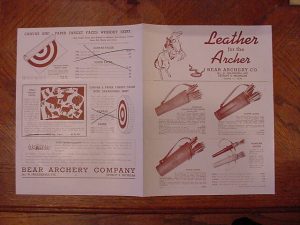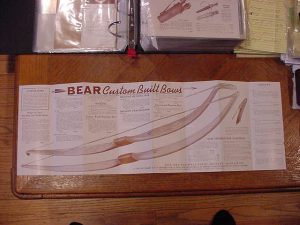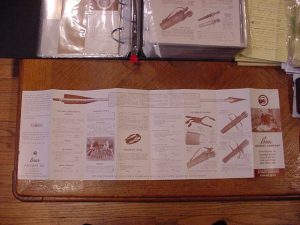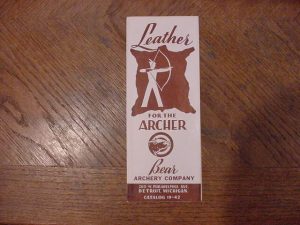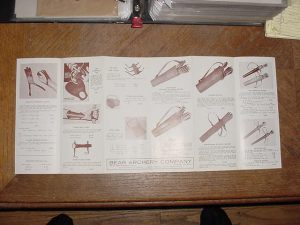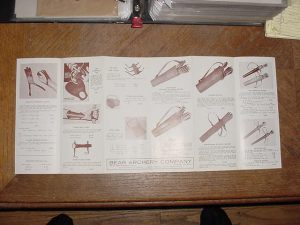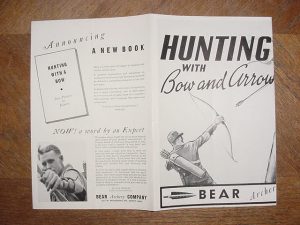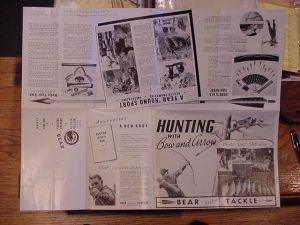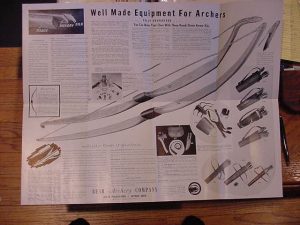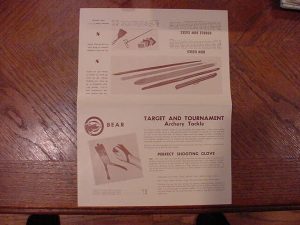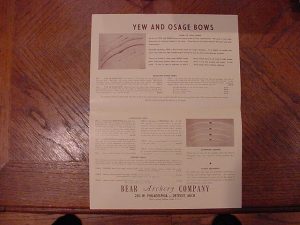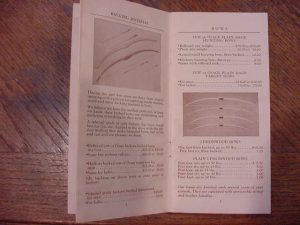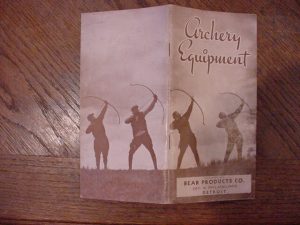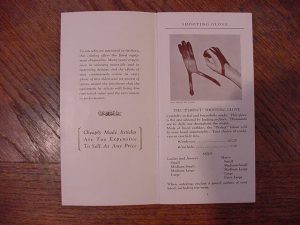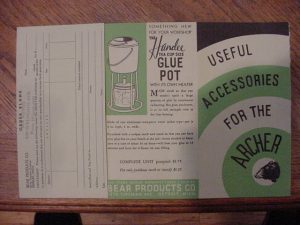 The next piece of ephemera from Bear came in 1938 with the issue of a true catalog which details all their leather products and other accessories, but again no bows. Finally, in 1939, a 24 page catalog was issued from Bear Products which listed the first Bear bows.
These catalogs and brochures with the name Bear Products Company on them are very, very scarce.
Note – The Bear Archery catalogs of 1975 were unique in that they were printed in 4 different language versions – French, German, Japanese, and English.
The early Bear Archery catalogs were not dated, but numbered. From left to right are the #23, 24, 24A, and 25.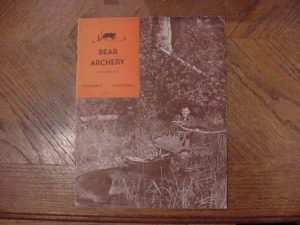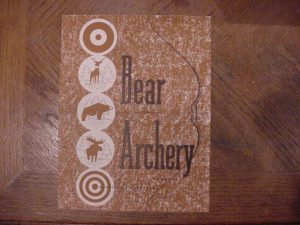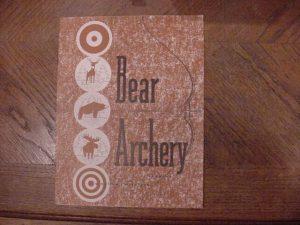 The Rarest of the Bear Catalogs?
The title of rarest Bear Archery Company catalog (not counting the early Bear Products brochures) would belong to the 1957, followed fairly closely by the Catalog #20. Why 1957? Something happened at the printer that year which destroyed the catalogs before many had been delivered to Bear. In an effort to get catalogs into the hands of their customers, Bear actually glued covers from 1957 onto catalogs of 1956!!!.
The 1955 catalog is shown on the left, with the rare 1957 pictured on the right in this photo.
Note – Be on the lookout for 1957 catalogs which are actually 1956 catalogs with the 1957 cover glued on!! This happened in the Bear factory due to the loss of most all of the true 1957 catalogs. The true 1957 is the one that you are after, although neither is common by any stretch!!
Do people actually collect the catalogs? With a fever pitch do they collect them!! The catalogs prior to the 1970's are becoming very hard to find, and the early 60's and the dated ones from the 50's could even be considered scarce. The numbered ones might go so far as to be labeled rare in some collector's opinions. As for value, I don't dare risk putting my opinion here, cause sure as I did I would be proven wrong the next time someone sold one. It truly is a sellers market in Bear catalogs.
Catalogs of the Bear Products Company
1935 Tireman Avenue, Detroit, Michigan. Leather Products and Accessories only.
1938 4700 Burlingame, Detroit, again only accessories are listed
1939 4700 Burlingame, Detroit, with bows appearing for the first time in a Bear catalog, 24 pages
1940 Catalog #40A, 2611 W. Philladelphia St., Detroit
1940? Fold Out flyer #HP1 4-40 Accessories only 2611 W. Philadelphia, Detroit.
Catalogs of the Bear Archery Company
1942 Catalog #10-42 Leather products only. 2611 W. Philadelphia, Detroit.
1942 Catalog #11-42 Bows and other products . 2611 W. Philadelphia, Detroit
1944 Catalog #10-44 Leather products only. 2611 W. Philadelphia, Detroit
1947 Catalog #20 Complete catalog Grayling, Michigan
1949-50 Catalog #23
1951-52 Catalog #24 Complete catalog Grayling, Michigan
1953 Catalog #24A Complete catalog Grayling, Michigan
1954 Catalog #25 Complete catalog Grayling, Michigan
1955 – Present are all dated
Note – In 1967, there was a 1967 ½ catalog published to announce the new "Super Kodiak" and the Kodiak Hunter model bows.