Nothing has grown so fast and furious in the hobby of Archery Collecting anywhere near the growth that collecting Bear Archery memorabilia has. It doesn't seem to matter what the item is, be it broadhead, bow, catalog, or even LP record albums of Fred telling hunting stories, if it says Bear Archery on it, someone wants it bad!
In these articles I will present an overview of Bear Archery, and give you just a taste of the different items which you should be looking for. Then in later columns, we can get into the details of particular items. But for now, sit back and enjoy our time capsule of the most famous archery company of all time.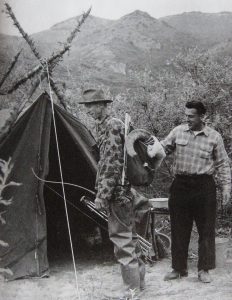 A Brief History of the Bear Archery Company
Begun in 1933 in a small shop in Detroit, the company was first known by the name Bear Products Company. Archery consumed only a small corner of this new business whose main line was silk-screening and other advertising work for the major automotive makers. Although Fred made bows for himself and friends, it wasn't until 1938 when Fred hired a very skilled woodworker from Detroit by the name of Nels Grumley that the Bear Products Company line expanded to include bows.
By 1940 the archery line had grown to the point where Fred decided to sell out his part of the advertising business to his partner and continue to pursue his hobby/business as the Bear Archery Company. Times were tough, but Fred was a very good business man, and the business continued to grow until the move from Detroit to a brand new plant which Fred had completed in Grayling in 1947.
Fred sold the company in 1968 to Victor Comptometer so that he could raise the needed capitol to grow the company even more. Even though he was not the owner any longer, Fred stayed on as President of Bear Archery Company under Victor. The Bear Archery Company thrived in Grayling until 1978 when a strike at the plant forced the owners to move operations to Gainesville, Florida where the company remains today. Fred stayed active with the company that bears his name until his death in 1988 at the age of 86.
Now that we know a little about the Companies roots, let's take a look at some of the more popular products which have been produced by Bear over the last 65 years.